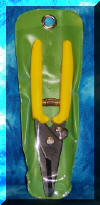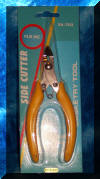 Tool Kit Basketry & Floral Shears Reed Cutter Side Cutter Reed Trimmer
Bent Nose Pliers Round Nose Pliers Reed Gauge
Everyone knows that using the appropriate tool for the job will get it done more quickly and basket weaving tools are no exception to this old adage. The basketry and floral shears are an absolute must for every basket weaving project. The sharp point can cut in the hard to reach places that every basket has. The heavy duty steel blade is very sharp and makes cutting basket weaving supplies a lot easier. The reed cutter basket weaving tool makes cutting through the larger, thicker pieces of basket weaving supplies a snap. The side cutter basket weaving tool makes preparing to rim a basket easy and more clean looking with the ability to trim from the side. The reed trimmer basket weaving tools is wonderful for trimming up a completed basket weaving project.
For those stubborn pieces of basket weaving supplies that just will not got through when you want them to come the bent nose pliers and round nose pliers. These basket weaving tools are wonderful for grasping those stubborn basket weaving supplies and pulling them through.
Ever run across a piece of basket weaving reed, but cannot tell what size it is? Never wonder again with the reed gauge basket weaving tool. The reed gauge will accurately determine what size of flat, flat oval, oval oval, half round, and round reed basket weaving supplies you have.
The basket weaving tool kit makes for a wonderful starter set for the basket weaver just entering the basket weaving world. The basket weaving tool kit includes a caning awl, reed gauge, reed cutter, reed trimmer, and a packing/tucking tool. These basket weaving tool kits also make for a wonderful spare basket weaving tool kit that can be easily kept in a tote bag or car trunk. Making it easier to weave at a moments notice.
Key Benefits
Specialized basket weaving tools make it easier to complete ones basket weaving project
Basket weaving tools that end in a small point can reach those hard to reach places that every basket weaving project has
Basket weaving tool kit makes for an excellent starter set for one whose just starting out basket weaving
Pricing
| Description | SKU # | Price |
| --- | --- | --- |
| Tool Kit | T-Kit | $12.95 |
| Basketry & Floral Shears | T-Shears | $7.95 |
| Reed Cutter | T-Cut | $7.95 |
| Side Cutter | T-Side | $7.95 |
| Reed Trimmer | T-Trim | $2.45 |
| Bent Nose Pliers | T-BNP | $7.95 |
| Round Nose Pliers | T-RNP | $7.95 |
| Reed Gauge | T-Gauge | $1.95 |