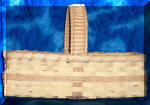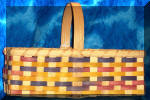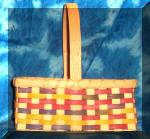 Small Market Woven Handle Small Pastel Rainbow Market Medium Pastel Rainbow Market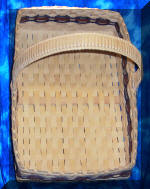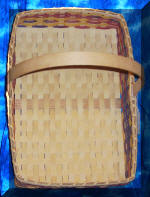 Extra Large Navy Blue & Walnut Market Woven Handle Extra Large Pastel Rainbow Market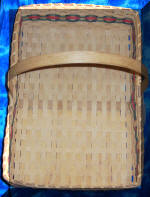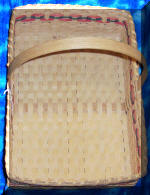 Green & Red Accent Jumbo Market Red & Green Accent Jumbo Market
Back in time before grocery stores, people would purchase or weave a hand woven market basket, which was used to carry purchases or items for sale at the market. Most weavers in basket weaving will use a D handle in their market baskets. As with most handles the bottom and part of the sides of the handle are woven into the basket. Basket handles can be left unadorned or a basket weaver will embellish the handle with additional weaving.
Market baskets come in a wide variety of sizes ranging from a 6" long by 2 1/2" wide basket to a 20" long by 14" wide basket. Most market baskets can be stored nested inside larger market baskets when not in use.
Please find below some of the common sizes of market baskets.
Mini Market - 6" long by 2 1/2" wide by 2" tall
Small Market - 12" long by 6" wide by 3" tall
Medium Market - 10 1/2" long by 8" wide by 5" tall
Large Market - 14" long by 10" wide by 5" tall
Extra Large Market - 17" long by 12" wide by 6" tall
Jumbo Market - 20" long by 14" wide by 8" tall
Key Benefits
Each basket is unique and durable
Functional and decorative art
Hand woven basket
Pricing
| Description | SKU # | Price |
| --- | --- | --- |
| Small Woven Handle | Mrkt_SmW | $21.00 |
| Small Pastel Rainbow | Mrkt_Sm | $16.00 |
| Medium Pastel Rainbow | Mrkt_M | $19.00 |
| Extra Large Navy Blue & Walnut Accent Woven Handle | Mrkt_XL | $36.00 |
| Extra Large Pastel Rainbow | Mrkt_XL | $31.00 |
| Jumbo Green & Red Accent | Mrkt_J | $40.00 |
| Jumbo Red & Green Accent | Mrkt_J | $40.00 |
---