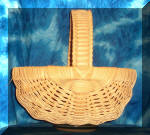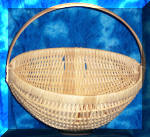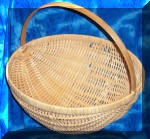 8" Melon Woven Handle 12" Melon 14" Melon
Hand woven rib baskets have been made for centuries to meet household needs. There are several common names for this type of hand woven basket such as melon, egg, hen, key, potato, roll, or yarn basket. At first glance, a rib basket appears to be quite simple and easy to weave. In essence it is, however, shaping a well rounded symmetrical rib basket is not as simple and easy as it looks.
Typically in basket weaving, a rib basket with have a 3 ear fold or a 4 ear fold (God's Eye) where the hoops are joined. From that starting point, the ribs will be added in regular intervals with varying lengths that will ultimately yield a hand woven basket.
Key Benefits
Each basket is unique and durable
Functional and decorative art
Hand woven basket
Pricing
| Description | SKU # | Price |
| --- | --- | --- |
| 8" Melon Woven Handle | Mel_8 | $17.00 |
| 12" Melon Natural | Mel_12 | $25.00 |
| 14" Melon Natural | Mel_14 | $30.00 |
---