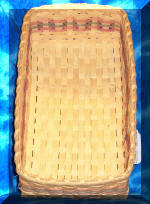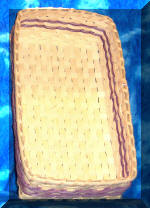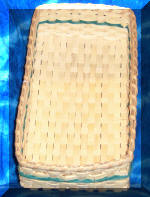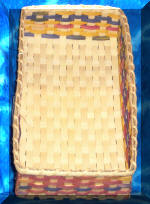 Rose & Sage Green Bath Natural Lavender Bath Natural Turquoise Bath Natural Pastel Rainbow Natural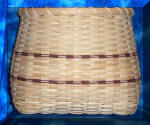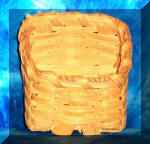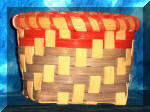 Walnut Accent Bicycle Basket Nic Nac Natural 4" Square Red & Sky Blue Accent Twill 6" Diameter Trivet Natural
These hand woven baskets fulfill a variety of needs for the modern life with more character than the standard cheap plastic bins.
Hand woven bath baskets were designed to sit on the water holding tank of the toilet and hold daily needed items such as makeup or a box of Kleenexes and a couple of wash clothes. Some customers have used the bath basket to hold their bills or their vegetables. There is no limit to what one can put into a basket. Bath baskets measure 14" long by 7" wide by 4 1/2" tall.
Hand woven nic nac baskets were designed to hold all those little nic nac's that little ones love to hang on to. Another option would be to hold candles, however, do NOT burn the candles within the basket if the candle is close to the top of the basket as they are flammable. These baskets measure 3" long by 3" wide by 3" tall.
Hand woven trivet was designed to hold hot pots or wet pitchers. Another option would be to use as a placemat. These trivets measure 6" in diameter.
Hand woven square twill basket was designed to have more character than the nic nac as well has hold a bit more. These baskets measure 4" long by 4" wide by 4" tall.
Hand woven bicycle basket was designed to be attached to the handlebars of the bicycle when cycling. These baskets measure 12" long by 4" wide by 12" tall. Note: these baskets do not include the attachment to the handlebars.
Key Benefits
Each basket is unique and durable
Functional and decorative art
Hand woven basket
Pricing
| Description | SKU # | Price |
| --- | --- | --- |
| Rose & Sage Green Bath Natural | Ba_Nat | $26.00 |
| Lavender Bath Natural | Ba_Nat | $26.00 |
| Turquoise Bath Natural | Ba_Nat | $26.00 |
| Pastel Rainbow Bath Natural | Ba_Nat | $26.00 |
| Walnut Accent Bicycle Natural | Bike_Nat | $34.00 |
| Nic Nac Natural | NN_Nat | $6.00 |
| 4" Square Red & Blue Accent Twill | Sq_4 | $12.00 |
| 6" Diameter Trivet Natural | Triv_6 | $10.00 |
---