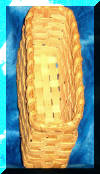 New England Footstool Mail Slot Pencil Cup Business Card Holder
Adorn your office with hand made baskets adding a splash of personality. These sturdy hand made baskets help you with your daily tasks.
The sturdy New England footstool is a wonderful way to prop your feet up under your desk while you work. These hand made footstools are 12" long, 9" wide, and 8" high. The perfect height for feet propping. The New England footstool also makes a wonderful gift to a child or grandchild.
The hand woven mail slot works to contain important papers such as incoming mail or bills waiting to be paid. These hand made baskets are 8" long, 2.5" wide, and 5" high. The mail slot is long enough to hold a junior sized pad.
The hand woven pencil cup works to contain all those loose pencils, highlighters and pens that run amok. These hand made baskets are 5.5" diameter and 3.5" tall. One customer actually used his pencil cup to hold his golf balls.
Key Benefits
Each basket is unique and durable
Functional and decorative art
Hand woven basket
Pricing
| Description | SKU # | Price |
| --- | --- | --- |
| New England Footstool | Off-FtStl | $50.00 |
| Mail Slot | Off-MlSlt | $16.00 |
| Pencil Cup | Off-Cup | $11.00 |
| Business Card Holder | Off-BizCrd | $6.00 |
---